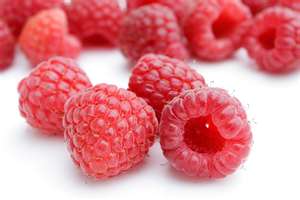 This article is about the various species of raspberry in the plant genus Rubus. For the widely cultivated Eurasian red raspberry, see Rubus idaeus. For the North American black raspberry, see Rubus occidentalis. For other uses, see Raspberry (disambiguation).
Fruit of four species of raspberry. Clockwise from top left: Boulder raspberry, Korean raspberry, Australian native raspberry, West Indian raspberry
Until recently the most commonly cultivated raspberries have been red-fruited hybrids between Rubus idaeus and R. strigosus.
Purple-fruited raspberry hybrids are becoming popularThe raspberry or hindberry is the edible fruit of a multitude of plant species in the genus Rubus, most of which are in the subgenus Idaeobatus; the name also applies to these plants themselves. Raspberries are perennial, with woody stems. This article is about the various species of raspberry in the plant genus Rubus. For the widely cultivated Eurasian red raspberry, see Rubus idaeus. For the North American black raspberry, see Rubus occidentalis. For other uses, see Raspberry (disambiguation). [1][2]Fruit of four species of raspberry. Clockwise from top left: Boulder raspberry, Korean raspberry, Australian native raspberry, West Indian raspberry [3][4]Until recently the most commonly cultivated raspberries have been red-fruited hybrids between Rubus idaeus and R. strigosus [5][6]Purple-fruited raspberry hybrids are becoming popular